Are Coupons Only for Processed Food?
One of the biggest arguments against using coupons to save money is the claim that companies give  coupons only for processed food. These would include things like cookies, candy, chips, sugar-laden drinks, sugar-laden cereals, etc.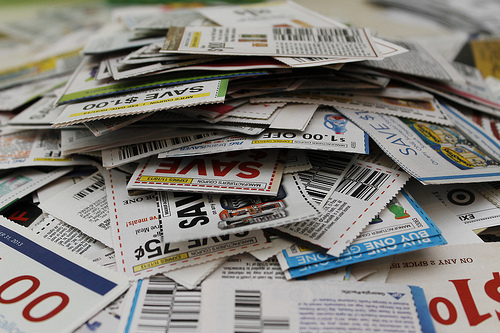 Photo Credit: OOingle
This idea that there are coupons only for processed food is a myth. It is possibly just an excuse to not do anything to change one's spending habits. Though a lot of coupons are for products many consider to be unhealthy, people who turn down couponing for that reason miss out of a ton of savings on the healthy foods they do eat, household items, and personal care products.
Do you use the following?
Spices and Seasonings
Frozen Fruits and Vegetables
Coffee
Dairy Alternatives (Coconut, Soy, Almond, etc.)
Cheese
Sour Cream
Butter
Nuts
Dried Fruits
Trail Mix
Eggs
Fresh Produce*
Fresh Meat*
Breakfast Meat
Cooking Oils
Storage Bags
Storage Containers
Foil Paper & Plastic Wrap
Household Cleaners
Dish Soap
Laundry Detergent
Air Fresheners
Deodorant
Toothpaste
Mouthwash
Make-Up
Facial Cleaners
Razors
Shaving Cream and Aftershave
Over-the-Counter Medicines
Vitamins
Paper Towels
Toilet Paper
Toothbrushes
*Target will occasionally put out paper coupons for fresh meat and produce, which could be also be used at stores like Publix that accept competitor coupons. They also offer savings via their their Cartwheel app. Apps such as iBotta and Checkout 51 also offer rebate savings on fresh meat, eggs, and produce from time to time.
Do you still believe you can use coupons only for processed food?
I've saved money on all of these items (well, except for make-up…) using coupons. An important thing to remember is that the biggest part of saving money on everyday items is buying them on sale and combining them with coupons. Even if coupons are not available for an item you want, the biggest savings will be found when they are on sale.
So, as you can see, skipping out on using coupons because of the supposed belief that they are only available for processed, sugar-laded, unhealthy foods causes you to miss out on a lot of good deals. Instead of worrying that there aren't enough savings for healthier items, focus on the savings you can find on healthy items, household, and personal care products.
Question: What methods do you use to save on healthier food items?
Photo Credit: OOingle | https://www.flickr.com/photos/cpyles/10866066513/