CVS: Huge Savings on Bounty, Tide, and Charmin

CVS
Proctor and Gamble is not known for selling cheap household and personal care products. However, when you combine a good sale with coupons and CVS's Extra Care rewards system, you can get great products for less than the bargain brands. This purchase only cost me $7 out of pocket. After Extra Care Bucks and an iBotta rebate, it was only $5.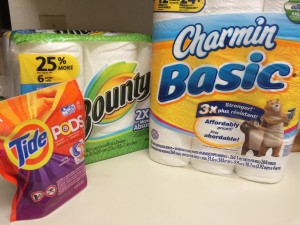 Extra Care Bucks Used: $3.00
Extra Care Bucks Earned: $1.00
Spent: $7.00
Saved: $21.65
Total Value: $28.65
Percentage Saved: 76% (82% with ECB and iBotta)
Bounty Paper Towels, 6 Rolls, $5.99 Sale
Charming Basic, 12=24 Rolls, $5.99 Sale
$0.75 of one Bounty AND one Charmin Product
$1.00 off Charmin iBotta Rebate
Made them $5.62 each (Charmin $4.62 after iBotta)
Tide Pods, 14 ct, $4.99
$2.00 off Tide Pods
Buy one Tide Pods, Get $1 ECB
Made it $2.99; $1.99 after ECBs

$5 off $15 Purchase CVS Coupon
Check Out This Article: The Biggest Mistake You Can Make After a Raise
If you want more tips and updates on saving money and budgeting from me and others around the web, please consider connecting with me on Social Media. I really appreciate it!
Budget Maxer on Facebook
Budget Maxer on Twitter
Question: What kind of savings did you find this week?